HP NonStop Tandem Training Catalog!
Find all the training you need to get the most out of your Tandem Equipment.
In order to help our clients meet the challenges of an ever changing business environment, we are pleased to offer a variety of courses designed to enhance your company's adaptability. Our courses are comparable to those being offered by HP, but at a significant savings.
You can choose to participate in classes offered at our new training facility in Suwanee, GA or we can bring our instructors to your location.
With expertise, professionalism and flexibility... we cover the bases in Tandem training... from basic operations and SQL courses, to System Migration, Security Management and Advanced Systems Management. If you need training to better run your systems and business, we've got a course for you.
HP Nonstop Tandem Catalog Selections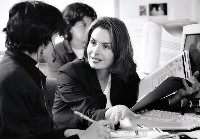 We can also customize a training program to suit your business needs.
Call for your customized data sheets and learn more about our courses.